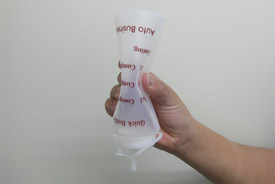 The Quick Bottle
is convenient for repackaging into small size.
The quick bottle is
made from flexible materials
, so it can take out contents with
small power
.Moreover designed for superior to stability.
Poketable size for easy handling!
Diameter 58mm and height 185mm means a size convenient for setting in pokets of work cloths.Can quickly restock compounds when polish wide area like roof and hood.
●Content
300ml
※Caution
Do not use for thinner and so on.